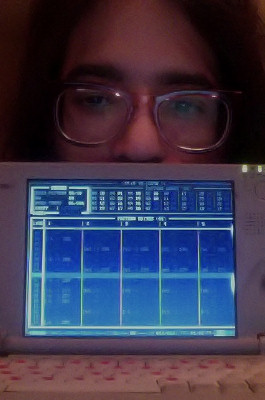 Diode Milliampere behind his machine running AT2

Welcome to the official Adlib Tracker II website! Here you'll find the latest info on subz3ro's finest FM-tracker. This will in time be the place to discover how to make most use of the OPL3-chip and a place to share your interest in FM-synthesis with other users. Adlib Tracker II is, dare we say, the most userfriendly tracker aimed for the OPL3 FM-chip, and is full of advanced features to simplify your task of making the most of your Adlib-tunes. Supporting 4 operator instruments, percussion mode, a wide selection of importable song- and instrument types and - maybe foremost - an advanced macro editor that can really push the FM-chip to the limit. If you're lucky enough to have an old PC machine lying around with a Sound Blaster compatible card - or a brand new computer that can simulate it - don't hesitate to install and get grooving with this ultimate FM-tool of yours! Feel free to browse these pages to find out more about Adlib Tracker II and see what you can do with it. Enjoy! This website looks great in 800x600 resolution and upwards, on all modern browsers. Website coding, gfx and overall design by encore. Content provided by encore and subz3ro. 2019-09-10 - Recent update of Program releases in Downloads section
2017-07-27 - Added AT2 w/ DOSBox for Mac OS X to Special program packages in Downloads section
2017-04-16 - Updated Technical Information
2017-01-19 - Updated CAPTCHA filter on Message Board
2013-12-31 - Project development restarted and first official version for Windows released
2012-05-20 - Member Dmitry Smagin ported AT2 to FreePascal/SDL and released first beta
2012-01-21 - Member Cecill Etheredge coded Synth! extension and created AT2 Google Code page
2010-11-23 - Creation of AT2 Open Source Project (OSP) at SourceForge.net
2007-06-10 - Release of version 2.3.38 and project development put on hold until further notice
2006-01-06 - Website finally online and domain name has been registered! Hooray!
2005-07-30 - Now in PHP! Guestbook added, superpolished webdesign and more.
2005-04-30 - Updated webdesign and architecture
2005-01-07 - Birth of new website creation!